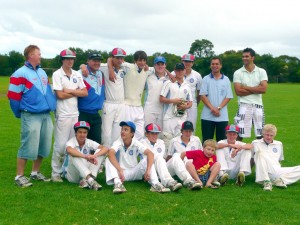 This year will be my last as Secretary of Engadine Dragons after 4 years in the role and 11 seasons with the club – a role that I have been privileged to hold and one that I have definitely enjoyed.
I have moved onto being the Secretary of Sutherland District Cricket Club Inc this year and have found that juggling both Secretary roles (plus the paying job!) as a bit of a stretch.
So you can see I will still be heavily involved in cricket administration and look forward to seeing as many of the Engadine juniors coming through the grade cricket ranks in years to come.
This year has been another very successful year for the club, with the following highlights as a key for me:
We had record numbers in both junior and senior players;
We had an all girls team which is a major milestone and it would be great to see this expanded in years to come;
The volunteer base at this club is second to none – including coaches, managers, scorers, BBQ cookers, committee members. The behind the scene roles played by the likes of Ian Latham, Harry Robbins, Bill Knowles and Bob Price are exceptional;
We contribute strongly to the SSJCA and SSCA via committee and delegate roles with Andrew Mazurkiewicz, Jim Lee, Tony Marciante, Allan Lofthouse, Peter O'Reilly and myself playing important roles. This has led to our club having an excellent reputation in Shire cricket circles;
We were SSJCA Junior Club Champions again – this reflects the efforts of all teams across the club over the 10 rounds and is a highly valued recognition of our overall results
Rob Knight has worked hard in his new role as coaching co-ordinator and will continue to bring new ideas to the club in future seasons to improve the skills of all junior players;
Our Trivia night was a great success and our thanks go to Ken Newman in his last year as MC of proceedings. The generosity of prize donors was fantastic, with special recognition of Peter Cox from Puma for the incredible prizes provided. It was a great social night as well as fund raiser for the club;
We came second in theAustraliawide Weetbix competition and have been awarded $3000 to assist with sporting equipment and facilities for next season. This would not have happened without the widespread support of all club members – give yourselves a pat on the back for such a great effort;
We have a strong club identity and are pleased to announce that a new supporters shirt and baseball cap will be ready to go for next season;
We have great sponsorship support – Club Engadine has been a financial supporter of the club for 12 consecutive seasons, whilst Harry and Carol Peters from Shire Foods and Marine Product Marketing have been supporting the Bradman Foundation Award for the last 6 years. We thank them and all our sponsors for their financial assistance which assists us in providing excellent facilities and cost effective registration fees for all players; and
Congratulations to our premiership winning sides – A2 and 12A and to all the sides that participated in the final series.
Lastly I want to recognize a great bloke that has done so much for this club – Bill Knowles. In 1987/88 Bill Knowles put his hand up to be Property Officer. Now 23 years later he has decided it's time to retire. He has done a remarkable job over these years, with a degree of commitment and thoroughness which has been outstanding. Bill has been fantastic for this club and I am proud to have got to know Bill over my time on the committee.
On behalf of the committee I want to wish Bill all the best and trust that he and Glenys can travel widely (even during cricket season which has been prevented to date!).
I feel honoured to have been on the Engadine Dragons committee for the past 4 years and wish the club every success in the future.