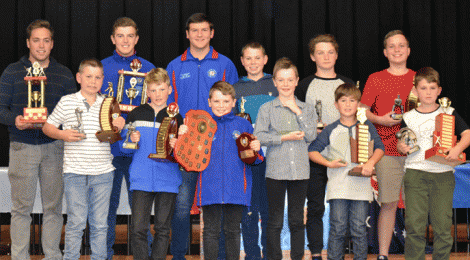 2015/2016 Annual Report
Read Full Report here (pdf – 8.75 meg 100 pages)

The 2015-16 season was another successful season for the Dragons finishing fifth in the Junior Club Championship and winning a number of premierships. Congratulations to the Junior and Senior premiers – 10A's, 10C's and C2's. Commiserations to all the runners up – the 16A's, B2's, B5's and B6's teams who gave their all in the finals.
Team numbers still continue to be strong. We fielded 17 junior teams and 8 senior teams this season. Once again it was great seeing a number of girls playing for the club's junior teams. We would like to encourage more girls playing for our great club in the future. Recruitment of U8 and U10 players for next season will be a priority for us as they are the future of the club.
Thank you to all the parents who helped out with the teams during the season whether it was taking on roles as coaches, managers, scorers or just helping out on each game day. Special thanks to our non-parent coaches in the club – Peter Schofield, Ian Latham, Adam Pascoe, Robbie Knight, Chris Moreland, Tim Russell and James Bills.
At the end of last season Steve Jones handed on the President's baton after 9 years of unwavering service to our club. On behalf of everyone associated with the Dragons I would like to thank Steve for his strong leadership and direction over those years. Fortunately for us Steve will remain in the cricket club as a general committee member as well as continue in the important community role on the Anzac Complex 527 Committee.
As this was my first year as Club President I would like to thank everyone who put time and effort into the club's running and made my job that much easier. A special thankyou goes out to our Club Secretary Neil Croker who yet again this season, put his heart and soul in to the club's operations. Thank you to the other committee members who worked tirelessly behind the scenes in their various roles.
Our Bunnings BBQ fundraiser was a roaring success this season. Thank you to all those teams and supporters who gave up their time to help out on the day. This year was especially busy as we ran out of sausages and bread stocks mid-afternoon requiring a mad dash to Supabarn at Sutherland to replenish stocks.
As a club we are always trying to investigate any avenues of additional fund raising. I would appeal to everyone associated with the Dragons, whether committee members, parents of junior players, or senior players, to assist in any way possible to attract sponsors in to our club. There are many positive ways that sponsors can be promoted in our local community via the Dragons Cricket Club.
Towards the end of the season our club had their first official Facebook page created and administered by one of our senior players, Tim Russell. A big thank you to Tim for this great initiative. It will be used as a means of communication to our members and we welcome all positive input to the Facebook page in the future.
Thank you to all the senior teams and their players this year. We believe in having a strong senior component of the club. I was pleased to see a substantial number of last year's U16 players filter up to the men's teams with a number of father/son combinations playing in the various grades. I congratulate all the senior teams and hope to see you all back next season. A special mention goes out to Stuart Slack for his role in coordinating the men's teams. Stuart, along with Adam Pascoe, has also organised the resurrection of the "club night" to be held at Engadine Bowling Club.
In closing let me once again thank everyone for their contributions to another successful season. As a club we are always looking at ways of encouraging and boosting new members to our committee. Please consider helping out. There are always positions available and we would love to see these filled.
Remember to keep up with all the club news and events via our website and Facebook page. See you again next season.
Jim Lee
President
Please follow and like us: