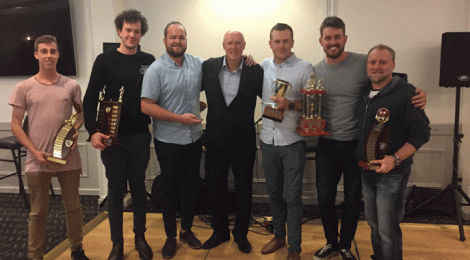 2016/2017 Senior Presentation & Annual Report
Read full 2016/2017 Annual Report (PDF 7.66meg) here
The 2016/2017 Senior Presentation & Club Night was held on Saturday May 27 at the Engadine Bowling Club. MC'd by Life Member Steve Jones with guest speaker Kerry O'Keefe and acoustic entertainment by Alex Henderson.

Presidents Report –
Season 2016-17 saw the following teams make their respective finals – 16C's, B1/2, B4 and C1. Unfortunately, the B1/2's were the only team to win on the day, pulling off a major upset to claim the premiership trophy. Commiserations to the runners up who gave their all on the big day. Overall the Dragons finished 5th in the junior club championship.
Playing numbers were down this year compared to last year. We fielded 12 junior teams and 7 senior teams. I believe there were a number of reasons for this which I will cover later on in the report.
A club does not function without help from parents and volunteers. To this end special mention goes to Adam Pascoe, Chris Moreland and Tim Russell. Not only were they members of the club committee, helping with registrations, grading and many other tasks, they also gave time to coach junior teams. For guys like this to go above and beyond, especially when they do not have children or relatives in those teams, speaks volumes of them.
Thank you also to all the parents who put their hands up to coach, manage, grade, select and help out with their respective teams. The game does not function without your input.
I would like to thank our executive – Neil Croker, Brad Moreland and Col Berry for your tireless efforts. Thank you also to Doug & Michelle Ritchie, Anthony Goodman, John Westlake, Stuart Slack and Ian Latham for the time spent carrying out your committee roles.
Finances were down a little this year in regard to our Bunnings BBQ fundraiser. We drew the NRL Grand Final day and people obviously chose to stay away from the DIY side of things on the day. We did finish in the Black though making some well needed money for club equipment. Thank you to all those teams and supporters who gave up their time to help out on the day.
The Dragons Facebook page has complimented our website in keeping our members up to date with the latest club news. This was evident when both junior and senior rounds in early February were called off due to the extreme heat, a decision that drew plenty of conversation amongst the cricket fraternity.
Once again thank you to Stuart Slack for his role in coordinating the men's teams and both Stuart and Adam Pascoe for organising the very successful "club night" held at Engadine Bowling Club.
I would like to acknowledge and thank the sponsors of the club. They are listed in this yearbook. Their contributions help with valuable equipment and other items necessary for the running of a sporting club like ours. Please make an effort to support them when you can whether that is buying from them or recommending them to friends.
A special congratulation to one of our players from last year's 16As, Brad Simpson. Brad has been selected in the Australian U16 team to compete at next season's Under 17 National Championships. We wish Brad all the best in the tournament and his future cricket endeavours.
A huge thank you and well done to those players finishing their junior careers. Good luck with those moving on to senior cricket whether that is playing local men's cricket, Shires or Grade Cricket. I'm sure you will have fond memories of your time in juniors with the Dragons.
In reference to my previous comments about a reduction in registrations this season, I feel we are entering a changing environment for the next generation of cricketers coming through in the area. Numbers, especially in the U8's, were dramatically down throughout the Sutherland Shire this season. No longer can we take it for granted that the game will be number one choice by the parents of young boys and girls wanting to play a summer sport. We also cannot take for granted that the Big Bash will magically deliver numbers of new budding cricketers at our registration days.
What we need is a further drive to update playing formats, of which I already see the seeds being sown through the national bodies, as well as a concerted effort from the club for different recruitment strategies. I see the greatest challenge being able to convince the parents of young children, especially mums, that the game develops skills and provides fun for their children to play and does not take all day to play.
In closing let me once again thank everyone for their contributions to another successful season. Please consider helping out at the Dragons in any way you can. There are always positions available and we would love to see these filled.
All the club news and events are available via our website and Facebook page. The Club looks forward to seeing you again next season.
Jim Lee
President
Please follow and like us: