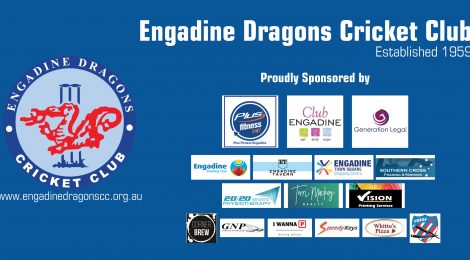 The Engadine Dragons Cricket Club has been a part of the local community since 1959 providing a platform for all kids and adults to play cricket. The club has been working hard in recent years to reconnect with the local business community for support and have been humbled by their response to date.
Plus Fitness Engadine and Club Engadine didn't hesitate to return as Gold Sponsors for the upcoming season and we're proud to announce that Generation Legal have also joined us as Gold Sponsors for the 2017/2018 cricket season.
Our Silver Sponsors include Engadine Bowling Club, Engadine Town Square Shopping Centre, Engadine Tavern, Southern Cross Framing & Mirrors, 20/20 Sports Physiotherapy, Terri Mackay Realty and Vision Printing Engadine.
Our Bronze Sponsors include Corner Brew Cafe, Razor Cut Barbers, Speedy Keys Engadine, GNP Marine Trimming, I Wanna P Driving School and Whittos Pizza.
All sponsorship funding is directly invested back into the club and is used to manage and improve the cricket club for its members by –
– Reducing registration cost
– New equipment
– Upgrading training facilities
– Training expenses (coaching courses, etc)
– Community engagement projects (coaching clinics, etc)
The club urges all its members and supporters, when given the chance, utilise these sponsors and the services they offer. Support the local business's that didn't hesitate to support us.
See all the services our sponsor's provide below –
GOLD SPONSORS
Club Engadine
Generation Legal
Plus Fitness Engadine
SILVER SPONSORS
Engadine Bowling Club
Engadine Tavern
Engadine Town Square
Southern Cross Framing & Mirrors
20/20 Sports Physiotherapy
Terri Mackay Realty
Vision Printing Engadine
BRONZE SPONSORS
Corner Brew Cafe
GNP Marine Trimming
I Wanna P Driving School
Razor Cut Barbers
Speedy Keys Engadine
Whitto's Pizza
Please follow and like us: