Nick Amos Debut for Sutherland 1st Grade
Congratulations to ex-Dragons junior Nick Amos who on Saturday October 14, 2017 became Sutherland District Grade Cricket Club's 1st grade player number 269. It was fitting that Nick received his cap from ex-Dragons junior and 1st Grade Captain Ben Dwarshius. In the previous weekend Nick made his debut in the Sutherland Poidevin-Gray Shield team. This is a great achievement for a player in only his second season of playing grade cricket.
At junior club level Nick was a very confident right hand top order batsman, left arm quick and in his final two seasons of 16As turned his hand to left arm spin. Nick commenced his junior career in the 2006/2007 season with the Bangor Barden Ridge Comets where he played six seasons, many while playing up an age group. In the 2011/2012 season Nick joined the Engadine Dragon's 12A team and went on to play five seasons and 53 matches for the club, which included four Finals, and achieving Premierships in 2012/13 – 14A and 2014/15 – 16A.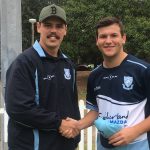 At representative level Nick served the SSJCA from 2008/2009 starting off in the U10 Development Squad for two seasons, then going on in the following seasons to Captain Sutherland's Creak, Cawsey, Gee, Moore, Weblin and Watson Shield teams with distinction. His efforts along the way in these Shield competitions saw him selected in the U13 and U15 Cricket NSW Academy. In his final two seasons of junior cricket Nick proudly represented the Sutherland District Grade Club in AW Green Shield competition.
2015/2016 was Nick's final and best season as a junior player at both club and representative level. Captaining the Dragons 16A to the Minor Premiership Nick scored 371 runs @ 37.10 and took 25 wickets @ 5.72 earning him the "John Woodhouse Memorial Trophy" for the SSJCA "Cricketer of the Year". Representing Sutherland in the Watson Shield competition, Nick scored 198 runs @ 33.00 and 5 wickets @ 11, then backing up this effort in the AW Green Shield competition with 274 runs @ 54.80 and 10 wickets @ 15.70. Nick's outstanding and consistent performances throughout these series saw him deservedly selected in the AW Green Shield Merit team and also the Metropolitan Team to compete in the U16 Cricket NSW State Challenge.
The Club wishes Nick all the best.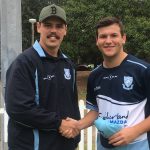 Please follow and like us: