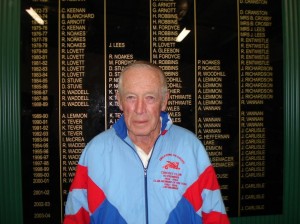 Harry's first cricket involvement within the Sutherland Shire started way back in 1947 playing for Heathcote Cricket Club. In 1949 Harry took over from his father Phillip as the Club Secretary of the Heathcote Cricket Club. In the early 1950's he joined the Cronulla Cricket Club and from 1949 to 1953 he captained the SSCA Telegraph Shield Team and continued through the 1950's and 60's as a regular member of the SSCA Martin Shield team, on many occasions as captain. In 1964 he joined the Engadine Dragons Cricket Club and in the season of 1967-68 Harry with assistance of Col Keenan and Barry Blanchard was instrumental in establishment of the Club's first senior cricket, success was immediate with the A2 team winning the premiership in its fledgling season followed by three consecutive A1 premierships, Harry played seniors with the Club from day one before retiring at 52. During the glory days of the 1970's Harry was known to all as "Mr Engadine Dragons" which says it all. Harry's three sons Phillip, Peter and Ken all played juniors, with Phil and Ken going on to also play seniors for the Club, Phil captained the 1967-68 12B Premiers team.
Service to the Engadine Dragons Cricket Club –
• Secretary for 7 seasons. (1973/74, 74/75, 76/77, 77/78, 81/82, 82/83, 83/84)
• Treasurer for 1 season. (1966/67)
• Property Officer for 14 seasons. (1964/65 to 1977/78)
• Wrote articles for the local newspaper for 32 seasons commencing 1964/65.
• Newsletter Editor for the first 5 seasons of publication commencing 1964/65.
• Coaching junior teams for 27 seasons. (11 Premierships and 6 Runners Up)
• Club coach for 5 seasons. (2001 to 2006)
• Ran School Holiday coaching clinics for 7 seasons. (2004/05 to 2010/11)
• Club delegate to the SSJCA for 8 seasons. (1973 to 1979) & (1981 to 1984)
• Club delegate to the SSCA for 9 seasons. (1967 to 1976)
Service to the SSCA & SSJCA Associations & Sutherland Grade Club –
• SSCA Auditor for 17 seasons.
• SSCA General Committee for 3 seasons.
• SSJCA Grading Committee SSJCA for 5 seasons.
• SSJCA Representative Selector for 6 seasons.
• Coached Watson for 3 seasons.
• Coached Green Shield teams for 1 season (Undefeated Premiers).
Honours received –
• Life Membership of the Sutherland Shire Cricket Association in 1970.
• Life Membership of the Engadine Dragons Rugby League Football Club in 1975.
• Life Membership of the Engadine Dragons Cricket Club in 1978.
• Senior Club Champion Trophy named after Harry in 1996.
• Hughes Community Award in 1998.
• Australian Sports Medal in 2000.
• Cricket Australia 50 Year Service Award in 2005.
• Club training facilities & Meeting Rooms named "The Harry Robbins Rooms" in 2006.
• Service to Shire Junior Cricket Award in 2016.
After coaching countless premiership teams over the years the 2006/07 10A Premiership victory at the age 76 years showed Harry had lost none of his ability to guide teams at the highest level. In 2008 Harry hung up his coaching boots, but still continued to help out teams where ever he could and was still actively contributing to the Club by writing his "Around the Grounds" column in the Club Newsletter and in the local paper. Ill health in the 2014 saw Harry's 65 years of active contribution to cricket in the Sutherland Shire come to an end.
They say behind every good man there's a good woman and in Harry's case that woman was his wife Heather, another staunch worker for the Club typing the Club Newsletter in the early years as well as being hard working member of the social committee in the 70's and 80's. Heather sadly passed away July 26, 2016.