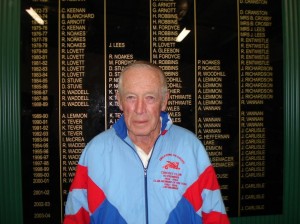 Harry's first involvement in cricket within the Sutherland Shire started way back in the late 1940's as Secretary of the Heathcote Cricket Club, an office that he held for three years. From 1949 to 1953 he captained the Telegraph Shield Team and continued through the 1950's and 60's as a regular member of the Martin Shield team, on many occasions as captain. In the 1964-65 season he joined the Engadine Dragons, an affiliation that would span more than four decades.
Over these years Harry has served the Club in a number of offices, Secretary for seven years, Treasurer for one year, Property Officer for fourteen years, Newsletter Editor for the first five years of publication, Club delegate to the S.S.J.C.A. for eight seasons, Club delegate to the S.S.C.A. for nine years and eighteen years of coaching and encouraging our junior teams. Harry also dedicated many hours of service at the Association level, Auditor for the S.S.C.A. for seventeen years and three years on the general committee, Auditor for the S.S.J.C.A. for sixteen years, also served on the Grading Committee, Representative Selector and Coach of Watson and Green Shield teams.
In the season of 1967-68 Harry with assistance of Col Keenan and Barry Blanchard was instrumental in establishment of the Club's first senior cricket, success was immediate with the A2 team winning the premiership in its fledgling season followed by three consecutive A1 premierships, Harry played seniors with the Club from day one before retiring at 52. Over the many years Harry has contributed greatly to sport in our community, whether it be football or cricket and for his tireless efforts he has been honoured by Engadine Dragons Football Club, Engadine Dragons Cricket Club and Sutherland Shire Cricket Association with Life Membership.
In 1998 he was again acknowledge for his service to youth sport as a recipient of the Hughes Community Award and in 2000 received the Australian Sports Medal. During the glory days of the 1970's he was known to all as "Mr Engadine Dragons" which says it all. Harry's three sons Phillip, Peter and Ken all played juniors, with Phil and Ken going on to also play seniors for the Club, Phil captained the 1967-68 12B Premiers team.
After coaching countless premiership teams over the years the 2007-10A victory showed that he has lost none of his ability to guide teams at the highest level. He was honoured with the club naming the "Senior Club Champion" trophy after him in 1997.
They say behind every good man there's a good woman and in Harry's case that woman is his wife Heather, another staunch worker for the Club.