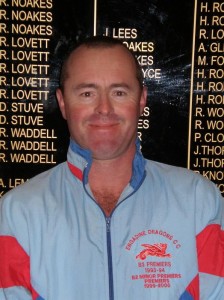 Paul first started in September 1983 and was graded in the 12E team as he was a NPE (No Previous Experience) player. In his first year as a leg spinner he took 18 wickets. As a junior he never played higher than C Grade but as a senior player he has played at all levels up to and including A1. He is the Club's most prolific wicket taker of all times. On the 10th September 2005 at Port Hacking High School Oval he took 8 for 59 and in so doing broke through the 500 wickets barrier. At the end of 2007/2008 this total reached 573.
Paul, better known throughout the Club as "Wal", coached junior teams in 1994/95 10C, 2000/01 10D, 2001/02 10A (finalists) and 2003/04 16C (St. Pats/Dragons composite team). Due to work commitments on Saturday mornings he had to cease.
In 1996/97 he was named the Senior Club Champion for the year for his bowling performance of 48 wickets in the season. He has Captained senior teams for the Club and always available to help out when hands are called for – a good club man.
Paul has always been on hand when help has been required. Many the year that he has assisted in setting up the hall at Heathcote High School for the Junior Presentation night, more often than not the only senior player to assist.
Paul has been one of our many BBQ cooks on many an occasion whether it be end of year celebrations or Grading days. Paul is one of the few senior players who regularly get involved with general club activities and can always be called on.
The 2007/2008 season Paul took on the role of Equipment Officer on the Management Committee as well as stepping down to Captain the C2 team comprised mainly of young players coming into senior ranks for their first year.
The 2008/2009 season marked the end of Paul's cricket career with the Dragons having taken close to 600 wickets for the Club over 26 seasons.