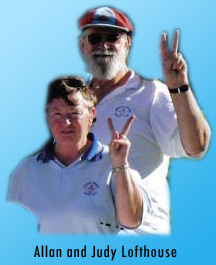 Allan played for the club from 1985 to 2013, a total of 28 consecutive seasons. In those years he has played and captained lower grade teams and has assisted numerous junior players make the transition into the senior ranks. Allan took on his first committee roll in 1998 and has been our Association Delegate to the SSCA since 1999.
From 2000 to 2013 he held the position of Senior Division Assistant Secretary and graded our men's sides over those years. Allan was well supported by his wife Judy who has also served on our Committee as Senior Registrar. Allan and Judy's son Brendan also played with the Club. Allan was deservedly awarded a Life Membership of the Club in 2008.
In 2012 Allan took on the Role as SSCA Competition Manager.