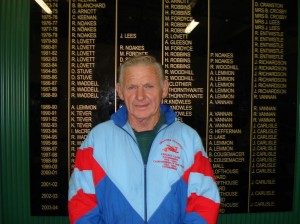 Bob has been Publicity Officer since 1989/90. He has also coached junior teams and is a regular scorer for our senior teams. He also has been the strength in organising our club raffles in this period. For his services to the club Bob was made a Life Member in 1999 and the "Bob Price Encouragement Shield" for a promising junior player has been named in his honour. Bob is also a recipient of the Hughes Community Award for his service to Engadine Eagles Soccer and to Engadine Dragons Cricket.
Together with son Darren they coached the Most Improved team in 1996/97. Bob was also successful with the 12D team in 1990/91. Darren won the Robert Tickner Award in 1988/89, was the outstanding Junior in Men's Cricket in 1994/95, and was also a member of the 1993/94 16A and 1998/99 C1 premiership teams.
Bob's second son Graham won the Robert Tickner Award in 1991/92 and the Ray Noakes Memorial Award in 1994/95. Bob's nephews, Geoff and Mick, were excellent cricketers. Geoff was an opening batsman through the junior teams playing A grade cricket, also representing the Shire in the Watson Shield. Mick played juniors and was a member of our A1 team winning the Senior Club Champion Award in 1985/86.