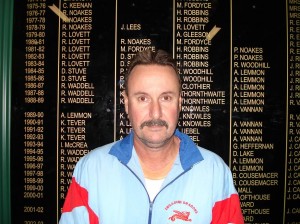 Ian joined the Club in the 1993/94 season, successfully coaching junior teams before taking on the office of Club Secretary from 1995/96 until 2004/05 making him the Club's longest serving Secretary (10 years). Since 2005/06 he has held various positions on the Club Committee including Equipment Officer, Special Projects Managers, Assistant Secretary and Webmaster. For over twenty seasons he has continued to coach or manage junior teams.
Ian has served the Sutherland Shire Junior Cricket Association in a number of roles – Recorder, Publicity Officer, Grading Committee and Representative Selector.
Ian's sons Daniel and Ben have both played cricket for the Club. Daniel played from 1993/94 until 1996/97 and 1999/2000 before returning to the club in 2008/09 & 2009/10 to play in the senior ranks with his brother. Ben has played for the club since 1999/2000.
In 2003 for his services to the club Ian was made a Life Member and has been honoured with his name on the "Junior Club All Rounder" trophy. In 2007 Ian was the recipient of the "Hughes Community Award" for his services to cricket.