In determining "Cricketer of the Year", who shall be selected from the 16A competition, primary consideration will be based on performances over the competition rounds.
However, SSJCA Management may, in order to select one from a number of outstanding candidates, take into account demonstrated performance at Representative cricket level to award the "JOHN WOODHOUSE MEMORIAL TROPHY:
Below is the table of clubs that have produced the most Cricketers of the Year since the inception of this award in 1961-62. The numbers are correct as of the conclusion of the 2016-17 season.
| | | |
| --- | --- | --- |
| CLUB | NUMBER | PLAYER NAMES |
| ENGADINE DRAGONS | 13 | B. McManus (1964/65), C. Parsons (1985/86), N. Morando (1988/89), C. Lake (1993/94), R. Shepherd (2000/01), J. Davis (2002/03), B. Marciante (2006/07), R. Marlow (2007/08), R. Almond (2008/09), D. Fisher (2011/12), N. Marciante (2012/13), H. Tattersall (2013/14), N. Amos (2015/16) |
| CARINGBAH SPORTS | 8 | A. Hilditch (1971/72), J. Stead (1980/81), M. Bradley (1992/93), D. Reynolds (1995/96), L. Dudman (1997/98), M. Hughston (1999/00), G. Richards (2003/04), A. Davis (2004/05) |
| ST. PATRICK'S | 7 | M. King (1962/63), P. Venn (1966/67), K. Tuite (1981/82), A. Quinn (1982/83), D. Wallis (1986/87), S. Duff (1987/88), H. Smith (2010/11) |
| MIRANDA MAGPIES | 5 | R. Tozer (1961/62), B. Davison (1963/64), K. Hudson (1974/75), G. Whatley (1975/76), M. Gardner (1979/80) |
| GYMEA BAY | 5 | B. Handley (1972/73), B. Handley (1973/74), P. Bishell (1976/77), G. Arnold (1978/79), J. Holley (1991/92) |
| SYLVANIA HEIGHTS | 4 | P. Hart (1968/69), S. Anderson (1970/71), D. Mitchell (1996/97), C. Williams (2001/02) |
| ILLAWONG MENAI | 4 | J. Drinkwater (1998/99), J. Hudson (2005/06), J. Brown (2009/10), L. Hawksworth (2014/15) |
| JANNALI | 3 | G. Bailey (1965/66), J. Dyson (1969/70), M. Condon (1983/84) |
| CARINGBAH DSL | 2 | M. Ray (1967/68), K. Rynne (1977/78) |
| ST. JOHN BOSCO | 2 | M. O'Brien (1989/90), C. Haran (1990/91) |
| COMO JANNALI | 1 | B. Wicks (1994/95) |
| COMO | 1 | J. Smith (1984/85) |
| DLS SEAGULLS | 1 | Joshua Moors (2016/17) |
Nick Amos (16A – 2015/16)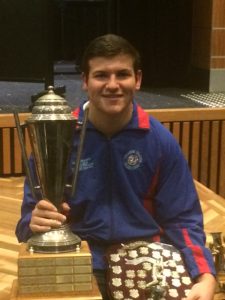 Right handed top order batsman
Left arm medium/fast bowler
Batting Aggregate – 371 Ave – 37.10
Bowling Aggregate – 25 Ave – 5.72
It is a great honour and privilege to be able to write this report on the cricketing achievements of the 2015/2016 "John Woodhouse Memorial Trophy" winner Nick Amos. This prestigious award caps off a wonderful season and impressive junior career for Nick by finishing as the SSJCA "Cricketer of the Year"
Nick is a very talented, right hand, opening batsman and left arm opening bowler who commenced his junior career in the 2006/2007 season with the Bangor Barden Ridge Comets where he played six seasons, many while playing up an age group. In the 2011/2012 season Nick joined the Engadine Dragon's 12A team and went on to play five seasons and 53 matches for the club, which included four Finals, and achieving Premierships in the 2012/2013 14A and 2014/2015 16A competitions.
At representative level Nick served the SSJCA from 2008/2009 starting off in the U10 Development Squad for two seasons, then going on in the following seasons to Captain Sutherland's Creak, Cawsey, Gee, Moore, Weblin and Watson Shield teams with distinction. His efforts along the way in these Shield competitions saw him selected in the U13 and U15 CRICKET NSW Academy. In his final two seasons of junior cricket Nick proudly represented the Sutherland District Grade Club in AW Green Shield competition.
The 2015/2016 representative season saw Nick's great potential realised. Starting first in the Watson Shield competition, where he scored 198 runs @ 33.00 and 5 wickets @ 11, then backing up this effort in the AW Green Shield competition with 274 runs @ 54.80 and 10 wickets @ 15.70. Nick's outstanding and consistent performances throughout these series saw him deservedly selected in the AW Green Shield Merit team and also the Metropolitan Team to compete in the U16 Cricket NSW State Challenge.
In this season's 16A's Nick was by far the best all round cricketer in the competition and steered his team to the Minor Premiership with an outstanding personal contribution of 371 runs @ 37.10 and 25 wickets @ 5.72. Nick's ability with both bat and ball was instrumental in his team's success and with the added responsibility of the Captaincy he showed great leadership on match day and at training.
Nick's exceptional performance this season speaks for itself, but it is the way that he has conducted himself on and off the field that makes him a true champion. Nick always plays hard, but fair and is highly respected by not only his own players, but the opposition players as well.
On behalf of the Engadine Dragons Cricket Club and your team mates, I would like to congratulate you on all of your achievements this season. Nick, you are a very worthy recipient of "Cricketer of the Year".
Ian Latham.
Harry Tattersall (16A – 2013/14)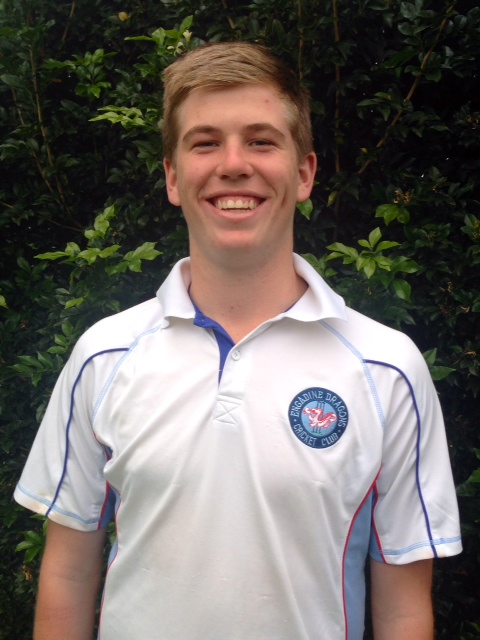 Right handed top order batsman
Right arm fast bowler
Batting Aggregate – 297 Ave – 37.13
Bowling Aggregate – 12 Ave – 8.33
It is a great pleasure and privilege to write the report for the 2013/14 'Cricketer of the Year', Harry Tattersall.
Harry commenced his cricketing career with Sylvania Heights in 2004/05 playing four seasons before joining Engadine's 10A team in 2008/09. My first look at Harry was as an opposition player in the 2006/07 10A Final against the Dragon's team that I was coaching at that time. Harry was still eligible for U/8's, but held his own against the older boys and showed the potential of becoming a very good cricketer.
Harry came to the 16A's this season with a reputation of a boy that could swing the bat hard and scare the living daylights out of the batsmen. I'm pleased to say that he lived up to this reputation and more. Harry this season demonstrated great leadership qualities on and off the field and his batting matured with the responsibility of batting in the top order scoring 303 runs @ 33.78. Unable to bowl due to injury at different stages throughout the season Harry still took 16 wickets @ 7.06, 4 of which came in the Final.
Harry has been a long serving member of SSJCA representative teams and this season represented with distinction in the Weblin Shield, Green Shield, CHSSA Sydney East and NSWCHHS U/15 teams.
Harry always plays the game with a smile on his face and as a first year U16 recipient of this award has a very promising cricket career ahead of him.
On behalf of the Engadine Dragons Cricket Club I would like to congratulate Harry Tattersall on being awarded this season's SSJCA 'Cricketer of the Year'.
Peter Schofield.
Nathan Marciante (16A – 2012/13)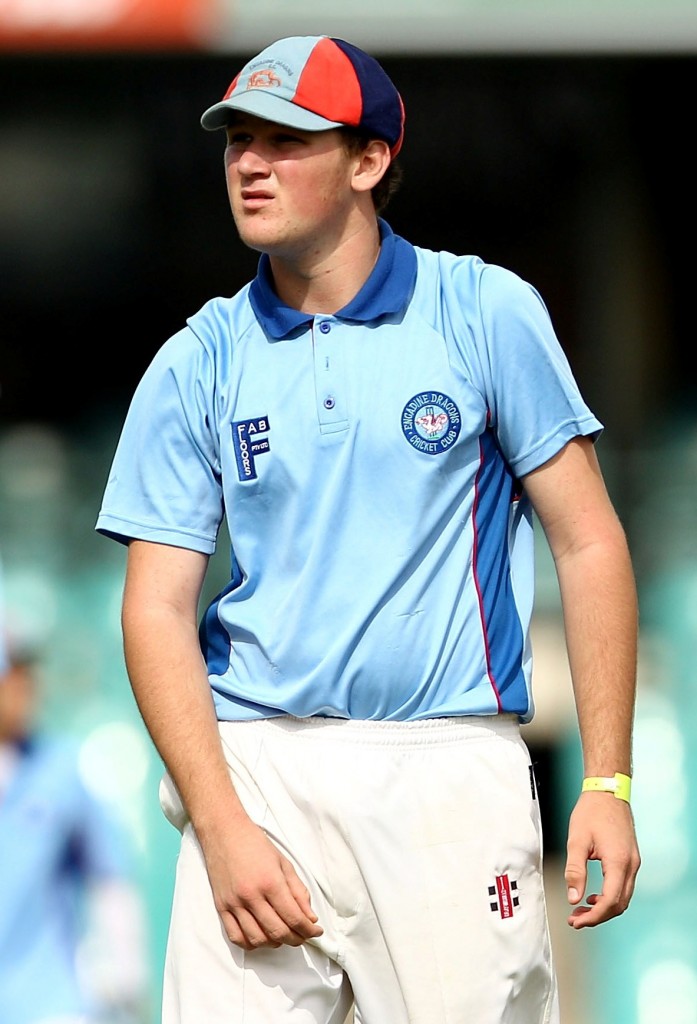 Right Handed Top Order Batsman
Right Arm Fast Bowler
Batting Aggregate – 547 Ave – 54.70
Bowling Aggregate – 23 Ave – 8.52
It is a great pleasure for me to be able to write the report on the career and achievements of the SSJCA "Cricketer of the Year", Nathan Marciante.
Nathan commenced his junior cricket as a U/8 player in 2003/04 for Engadine. In a ten year,  112 match junior career Nathan scored 2733 runs, captured 136 wickets, took 38 catches and achieved five "A" Grade Premierships. In 2005/06 Nathan was selected in the SSJCA U/10 Development Squad and went on to represent Sutherland Shire with distinction in the Shell Shield competition for five seasons.  In the 2008/09 season Nathan was awarded the Alan Craston Memorial Trophy for the SSJCA 'Best Performance 12A', which was the signal for greater things ahead.
My association with Nathan goes back to the 2006/07 season when I first coached him as a nine year old in the Dragon's 10A Premiership team. In my end of season 'Year Book' report I wrote "What a good cricketer this boy will grow into" as it was quite evident at that early age that Nathan possessed all the attributes to become an outstanding cricketer. Since that time I have had the greatest of pleasure to coach Nathan in Sutherland Shire Representative teams, Green Shield and his final two seasons of junior cricket.
This season Nathan dominated the 16A competition with both bat and ball scoring 547 runs at 54.7, which included a brilliant 152, and took 23 wickets at 8.52 with the best figures of 6 for 6 off 5.5 overs. In Green Shield Nathan had an equally great season scoring 265 runs at 37.7, including 117 against Sydney, and took 14 wickets at 20.3, thus earning selection in the Combined Green Shield No.1 team. Nathan also dominated the Weet-Bix Twenty20 competition scoring 269 runs at 67.25 and took 8 wickets at 10.37. Nathan's outstanding performances this season assisted his club team to win back to back 16A Premierships and being crowned both Weet-Bix Twenty20 Cup 'Metropolitan' and 'State' champions.
On behalf of the Engadine Dragon's Cricket Club, congratulations Nathan on the way you have conducted yourself as a representative of our club. We are all extremely proud of every one of your achievements throughout your junior cricket career, and your performance this season makes you a very worthy recipient of 'Cricketer of the Year'.
Peter Schofield
Dane Fisher: (16A – 2011/12)
Right Handed Top Order Batsman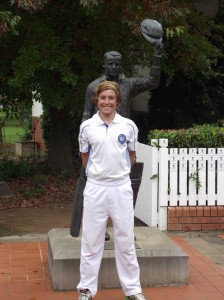 Right Arm Leg Spin Bowler
Batting Aggregate – 351 Ave – 43.88
Bowling Aggregate – 7 Ave – 26.14
Dane comes to the strong Engadine Dragons with whom he has played the last two seasons. Before that honing his skills as a junior at Gymea Bay CC. I have been involved with Dane at both Rep level, Club and Green Shield for the past four years. It was obvious to me when I first met Dane he was a gifted cricketer with above average ability for his age. But what really stood out was his passion for the game and his willingness to train. In this wonderful game you get out as much as you are willing to put in. Dane is always willing to put in that extra time. Apart from all the other commitments we spent the whole of last winter every Wednesday night at the indoor centre. All this extra work has really paid off for Dane.
Apart from being selected in Sutherland Rep sides, Dane was selected last year as an U14 into the Sutherland grade Green Shield, and was selected this year. He has also been an Emerging blue for the last three years. Dane was also selected to play various Grade games this season. He captained a very young U16A Engadine to a premiership. He led his team by example in being selected for the "Sutherland Medal" as the best and fairest in the Final. I feel Dane as a cricketer will only get better and better as he matures. It is no mean feat to win "Cricketer of the Year" as a first year boy.
I look forward to following Danes' career and wish him every success in the future, in the words of that famous English Cricket Captain "Pelham Warner" if he keeps his head inside his cap, he should go far.
Schoie – Peter Schofield
Ryan Almond: (16A – 2008/09)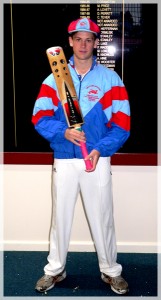 Right Handed Top Order Batsman
Right Arm Fast Bowler
Batting Aggregate – 507 Ave – 58.11
Bowling Aggregate – 15 Ave – 12.93
It comes with great pleasure to write a few words about the 2008-09 SSJCA Cricketer of the Year, Ryan Almond.
I first started coaching Ryan 5 years ago in the Creak Shield and witnessed a lanky fast bowler who could field well but couldn't hold a bat to save him self. An automatic 12th man with the bat, Ryan decided to start working on this part of his game and hasn't looked back since. After looking down the barrel of 5 ducks on the trot in his first year of U12's, he has turned those stats around in the space of 4 years in achieving 507 runs from 9 innings at an average of 56.33 including two centuries and a few half tons this season.
Ryan was also fiery with the ball, taking 15 scalps in the regular season at 12.93. Many opening batsmen weren't too keen to walk out and face Ryan with a new pill this year and he always showed them why, knocking over plenty of them.
A giant in the covers made it hard to drive anything and a freak in slips made the educated edges that usually get runs turn into wickets.
Not only a great player, but a great bloke with a lovely family, it is awesome to see the best player in the shire recognised for this.
Ryan also enjoyed success in the Emerging Blues U15 squad; was selected in the U15 NSW All Schools team; and the A.W Green Shield side for Sutherland this season.
On behalf of the Engadine Dragons Cricket Club I would like to congratulate Ryan Almond on being this year's SSJCA Cricketer of the Year.
Ryan Marlow: (16A – 2007/08)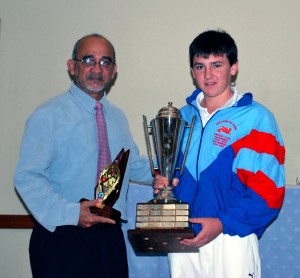 Left Handed Top Order Batsman
Left Arm Medium Fast Bowler
Batting Aggregate – 358 Ave – 29.83
Bowling Aggregate – 12 Ave – 18.75
It is a great honour and privilege to be able to write this report on the cricketing achievements of the 2007/08 'Cricketer of the Year', Ryan Marlow.
Ryan commenced his cricket career in 2001/02 when he was graded in the Club's 10A side. From the outset Ryan displayed potential to develop into a promising all round cricketer and accordingly he was awarded that seasons 'Rookie of the Year'.
As a 12A player in 2002/03, Ryan's enthusiasm and drive was rewarded when he became the recipient of the Club's much sought after 'Bradman Coaching Scholarship' to help further his development.
The following season Ryan made his Representative debut in the Gee Shield and has been a permanent member of Sutherland representative teams ever since.
I have been fortunate to have coached Ryan for three of his seven seasons with the Dragons. I have also been fortunate to witness a number of his memorable milestones including his first century, scored in the 12As. The following season he demonstrated his all round ability by taking 34 wickets @ 4.29.
Over the past seven years Ryan has continually developed as a cricketer and this season has been rewarded for all his hard work. Ryan has finished his junior career in style boasting the following impressive statistics – 358 runs @ 29.83 and 12 wickets @ 18.75.
Ryan's outstanding record speaks for itself but it is the way that he has conducted himself on and off the field that makes him a true champion. Ryan has always played the game in good spirit and in a highly sporting manner. I can speak on behalf of the club when I say that, we are all extremely proud of your achievements. Congratulations Ryan, you are a very worthy recipient of 'Cricketer of the Year'.
Ben Marciante: (16A – 2006/07)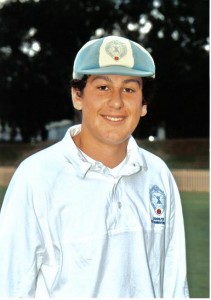 Left Handed Top Order Batsman
Right Arm Medium Fast Bowler
Batting Aggregate – 464 Ave – 58.00
Bowling Aggregate – 19 Ave – 13.74
It gives me great pleasure as the Watson Shield and Engadine's coach of the 16A's whom Ben both represented in 2006/07 to write of his cricket performances as the recipient of Sutherland Shires' most prestigious cricket award, the junior Cricketer Of The Year.
Ben came to our club as a second year U/12 player in 2002/03. As an aggressive left handed batsman and an off break bowler we were impressed from his initial net trial. I still recall Harry Robbins exact comment upon seeing him the very first time "this boy will get a lot of runs for our club" wise words indeed!
That prediction didn't take long for that same season Ben set a batting average that may never be beaten, 479 runs @ 159.67. That same season Ben scored his maiden century, 108*. Meanwhile his representative career was showing promise but was still one season away from blossoming. In 2003/04 Ben scored his first representative century, 106* against Hawkesbury after Sutherland were in real trouble at 4-27. His century coupled with a great partnership of 223 with Michael Sharkey setting up a great victory for his side.
In the meantime Ben was busy adding an extra string to his bow, as a threatening medium pace bowler. With developing height and strength Ben progressed from a first/second change bowler to an aggressive opener sharing the new ball. His developing skills saw him selected in the Emerging Blues. By 2005/06 Ben's all round talent was such, that as a first year 16A player he was the team's outstanding bowler with 21 wickets @ an average under 10. All the while compiling runs at a steady rate.
This past season was always Ben's. In club cricket his 464 runs @ 58 average was more than a hundred runs clear of anyone whilst he was equal top wicket taker with 19 scalps. Ben scored two centuries, 101 (retired himself) and a murderous 160, an innings which rates as possibly the best I have witnessed in junior competition. His fine form carried over into the districts Green Shield where his powerful batting accounted for 278 @ 46 per innings. With limited bowling opportunities Ben still managed 4 wickets from 15 overs with his best return 3-9. His great form culminated with his inclusion into the 1st Green Shield combined team.
In the four years as Ben's coach I am proud to say that he has always shown nothing but respect to all associated with his cricket, team-mates and opponents. He comes from a very close family who has always supported and only encourages his sporting ambitions.
Ben, your junior cricket may have finished, but the door is only opening to what should be a very promising cricket career. As an extremely worthy winner we wish you every success in the future of this great game.
Jay Davis: (16A – 2002/03)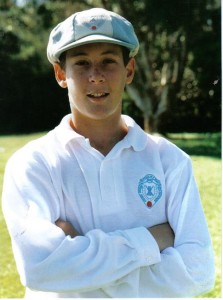 Right Handed Opening Batsman
Leg Spin Bowler
Batting Aggregate – 525 Ave – 58.34
Bowling Aggregate – 18 Ave – 11.89
This prestigious award caps off a fabulous season and impressive junior career for Jay by finishing as the Shire's leading junior player.
Jay first showed his abilty with the bat during the 1996/97· season as a member of the premiership winning lIIawong 10A side where he scored 319 runs for the season at an Association record average of 79.75. He scored the only century in 10A's that season (127 not out)
He was selected in the Foster Shield representative team that year and his consistency at this level has been demonstrated by his selection in every SSJCA representative team of his junior career.
He was back in prominence in the 2000/01 season by having the best Association batting average in 14A's (53.17 scoring, again, 319 runs including one innings of 103). This season also saw Jay emerge as a quality "all-rounder" in the Moore Shield representative team.
The statistics for this season (525 runs at 58.33 including 2 centuries (135no, 101) and a 89, 18 wickets at 11.89 -also taking 5 for 25 in the final, and 7 catches) reflect Jay's outstanding performance as well as emphasising his all round ability.
As well as being a member of the C S Watson Shield team, Jay was a member of the A W Green Shield team for 2 years. This season he excelled and his efforts were rewarded with selection into the Combined No.1 Green Shield team. In recognition of his outstanding representative season he was invited to trial for the metropolitan NSW U/17 team in which he made the last 30, only just missing out on the final squad of 24.
Jay also got the opportunity to play grade cricket for SDCC and played a number of games in 5th grade this season (after being called up to play in 4th grade the previous season).
I have coached Jay for the past four seasons and have had the pleasure of witnessing first hand how hard he has worked to attain the level of play that he displays today. He has made significant contributions to the premiership winning Engadine 14A's in 1999/00 and the back to back 16A premierships last season and this season.
This was Jay's second season as captain of his Engadine club team and his efforts both on and off the field have proved successful. Jay led by example, his enthusiasm helped to lift the other boys knowing that their captain was keen to do well. His close in fielding and catching was, at times, inspirational.
He set the example with the results he achieved and deserves every bit of success that comes his way. Jay is a player that every coach wants in his team with his enthusiasm and dedication to the game. A team player that always enjoyed the success of his peers and has a good relationship with all the players.
Jay's natural ability cannot be questioned – the statistics and results from Under 10's to now are testimony to that. The success that Jay has achieved this season comes from his dedication, application, team commitment and support combined with a diet of junior cricket at a club & representative level, men's cricket, grade cricket school cricket and the training hours that are required for all of these. It is his commitment to the game along with a lot of hard work and sacrifices that have resulted in this accolade being awarded.
Congratulations Jay and may future cricketing successes come your way.
Stuart Slack.
Ryan Shepherd: (16A – 2000/01)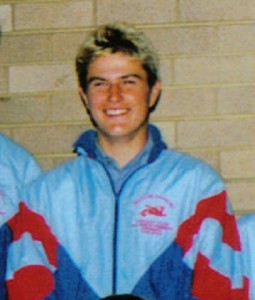 Right Handed Opening Batsman
Right Arm Fast Bowler
Batting Aggregate – 481 Ave – 96.20
Bowling Aggregate – 7 Ave – 18.14
It is with great pleasure, as coach of EDCC 16A's in 2000/2001 that I have been asked to write about Ryan (also known as and referred to as "Shep").
Although in my first year of team coaching, having been actively involved in cricket at all levels in the Sutherland Shire for over 36 years, I feel confident in my judgment that Ryan is something very special and capable of progressing to the very top.
The 16A's competition was well contested with a host of quality players, many of who would have been worthy recipients of this prestigious award. However, in Ryan not only statistically was he the best performed, he was easily the most respected opponent of all opposing players and coaches. This is often far more relevant than anything else.
Ryan was the premier batsman in the competition, a model of consistency, only missing out once when he was run out in the final. Suffice to say his impact on any game when at the crease is so great, that it was clearly the turning point of the game. I know all those associated with the eventual premiers Miranda, breathed a huge sigh of relief when Shep walked from the field.
The most significant fact about Shep's batting is the manner in which he scores his runs. Always looking to dominate opposing attacks, scoring quickly, plundering anything loose, whilst accumulating runs all round the wicket through his complete array of strokes. Another key feature of his batting, which is often a weakness particularly with young players, is his excellent running between wickets.
Almost every partnership of note that our team enjoyed involved Ryan. Each player enjoyed batting with him, although it can be hazardous at the non-striker's end when the ball whistles past you at great speed. The team's confidence grew every time Ryan began to dominate.
Ryan plays the game the way it should be played letting his willow do the talking for him. What impressed me most about him was the manner in which he accepted his dismissals whether they are dubious or otherwise. There were no remonstrations, sulking or excuses he simply accepted what occurred.
Most of this report has concentrated on Shep's batting but one should not forget his bowling and fielding. As is the case with many of our shires elite players, they are athletes capable of performing all disciplines. Ryan bowls at good pace, using his strength to maximum advantage. At first slip he took several good snares & even wicket kept on occasions with distinction.
Shep was an integral member of both the Watson & Green Shield teams. Filled in for the Engadine Dragons Al team and Sutherland District 5th grade, again demonstrating everyone's confidence in his ability and temperament to play against those many years his senior. It also shows his love for the game, as boys these days seem to be playing or practicing cricket almost every day of the week.
What I failed to mention earlier is that Ryan is in his first season of 16's! One can only wonder what he might do next season.
When you look at the statistics below please remember last season was an Olympic year, meaning 4 of the 10 games played were 30 over a side games. It was also a particularly wet period with grass coverage on fields, presenting an unfair challenge to all of our young cricketer's.
Fielding 7 catches
Bowling 7 wickets @ 18.14
Batting 481 runs @ a staggering average of 96.20
6 scores greater than 50
1 score of 100no
I know everyone associated with EDCC is extremely proud of Ryan and would acknowledge that he is not only a fine ambassador of our club but to cricket as a whole.
Congratulations Ryan, continue to play the game the way it should be played and may you fulfil that enormous potential.
Brett Johnson.
Chris Lake: (16A – 1993/94)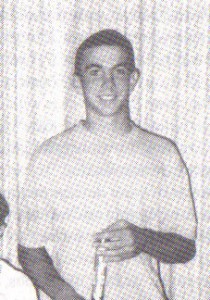 Right Handed Top Order Batsman
Right Arm Medium Fast Bowler
Batting Aggregate – 510 Ave – 63.75
Bowling Aggregate – 19 Ave – 11.4
I first saw Chris Lake in the 1987 Foster Shield Team and his abilities even then were very evident. He has played all his junior cricket with Engadine Dragons Club and was a member of the current 16A Premiers. Achievements during the rest of his junior cricket career will see his name regularly appear in the records column.
Chris's representative career continued from Foster Shield through to Weblin Shield and he was a member of the winning Creak, Gee and Moore Shields – Captaining the Gee, Moore and Weblin Shield sides. This year he was named Weblin Shield Player of the Year and has been selected to tour the Northern Territory.
A member of the NSW Metropolitan Squad since U13 years where in the early days he was considered an opening bowler and a No. 11 Bat. How times have changed – he now opens or is No. 3 Bat in the same squad!
Chris was selected as this year's Green Shield Semi-finalist, along the way surpassing a long standing batting record held at Sutherland Grade Club. He capped off a successful year being graded in 5th for the Sutherland Club. He has a love for the game and a personal desire to compete at the highest levels available which I know will be realised.
He is well supported by a lovely family who I have had the pleasure of knowing for some time. I look forward to watching Chris continue his success and think he is a very worthy recipient of the prestigious Cricketer of the Year.
Congratulations 'LAKEY'
Nathan Morando: (16A – 1988/89)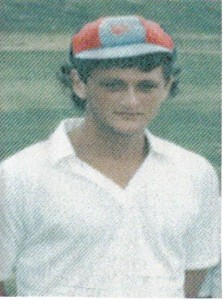 Right Handed Top Order Batsman
Right Arm Medium Fast Bowler
Batting Aggregate – 354 Ave – 39.33
Bowling Aggregate – 30 Ave – 12.76
Nathan's first season was with the Engadine Dragons in 1982/83 and whilst not setting the world on fire with bat and ball he did signal that here was a cricketer of some ability by taking 10 catches for the season. His second season saw Nathan unleash his full potential by scoring 479 runs including a century, and taking 32 wickets at an average of 7.22.
Since then there has been no looking back and his year to year statistics tell the story dramatically, that here is a player who is a cut above the rest. His achievements are too many to list in full but some of the best are listed below.
1985/86 took 42 wickets including a double hat trick for his club, scored a massive 379 in the "Cawsey Shield" series at an average of 42.1 and took 37 wickets at an average of 5.4. Captained the Metropolitan East School team at the NSW titles and the NSW team at the Australian titles.
In the past 3 seasons he has more than 300 runs and taken 30 or more wickets on every occasion. In addition to this he has been selected in the Metropolitian Youth Squad in each of the 3 years.
Representing the Shire on no less than seven occasions Nathan has been in the first division five times and was Vice Captain of the Cawsey No 1 team and Captain of the Moore No. 1 team.
In the 1988/89 season in Club cricket, Nathan has scored 352 runs including a century and taken 30 wickets. Additionally he has represented the Shire in the Watson Shield series scoring 110 runs and taking 14 wickets, also represented the Shire in the Green Shield series and played 5th grade for Sutherland on a number of occasions. In addition to all this he has, this year undertaken the coaching of an under 14B team for the Marton club, and has been selected as Engadine Dragons Club Champion for the second year in succession.
A fast bowler of devastating speed and accuracy and a hard hitting batsman whose conduct and sportsmanship have been first class at all times, Nathan Morando is a worthy winner of the Cricketer of the Year for 1988/89.
Craig Parsons: (16A – 1985/86)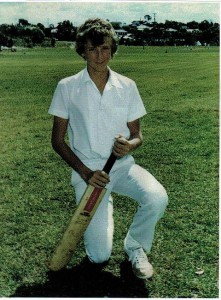 Right Handed Top Order Batsman
Left Arm Fast Bowler
Batting Aggregate – 343 Ave – 57.16
Bowling Aggregate – 19 Ave – 14.63
Craig is a left arm pace bowler and bats right handed. He has Captained many teams through his career from his first year in cricket in the U/I0 in the 1979/80 season.
In the 1980/81 season in the U/12E he broke the Association Batting Aggregate (which still stands) 471 runs with an average 67.28, his bowling figures took 37 wickets at an average of 3.49.
In 1981/82 he Captained the Arch Cawsey (2) side and played representative cricket every season.
In the 1984/85 season Craig won his Clubs "Player of the year award". He played in the 1985/86 Sutherland Green Shield team, also played 5th Grade for the District Club.
Craig, as you will agree has a great future in cricket and is held in very high esteem by all.
Barry McManus: (16A – 1964/65)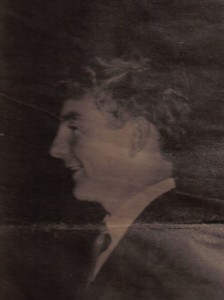 Right Handed Top Order Batsman
Right Arm Off Spin Bowler
Batting Aggregate – 578 Ave – 72.25
Bowling Aggregate – 37 Ave – 14.51