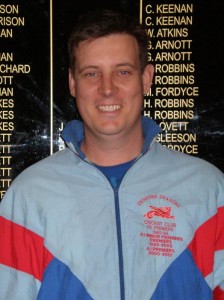 In 2008 Greg was awarded a Life Membership for 25 consecutive years of playing services to the club. Greg joined the Club in 1983 in the 10A's and was a member of the 1987/88 14A Premiership team.
In 1989/90, his last season of juniors Greg showed his love and passion for the game by playing 16A's in the morning and then in the afternoon played in the men's B4 side with his father Bill.
Greg's all round ability has seen him rise through the senior grades with a B3 Premiership in 1993/94 and culminating in back to back A1 Premierships in 1999/00 and 2000/01. Greg has always been available to assist the Club and has built a reputation as a loyal team and club member and is well respected by all within our Club.
In 2008, for playing services to the club he was made a life member.